Forgiveness.  
The Heiress was going to Las Vegas to her deceased mother's house. She asked me to join her and having never been, thought a jaunt across the desert in her mother's white Lincoln Continental with a navy blue cloth roof and a license plate reading "IM PRITTY" might be fun. She wanted to get there before her half sister so she could stick post it notes, scrawled with her name in black magic marker, on everything she wanted to bring back to San Francisco. As she was scoping out her mother's possesions she came across her mother's third  husband's childhood photo albums and a silver cigarette case with the name Sophia engraved on the cover. She asked me if I wanted the case. I said yes. It was very 40's and all that was missing would have been a cigarette holder to go with the case. We used it as a travel case for joints. Turns out Sofia was the third husband's mother and she got the cigarette case after they fled Germany to Argentina where they lived in exile before moving to Las Vegas.
For lack of anything to do in the house, I started looking at the third husband's childhood photo albums. It was shocking to see him, a smiling eight year old in a Nazi uniform. At the time I was horrified. The photos in the album glorified their lives and visually confirmed for me all the horrible things I had learned about Hitler. I am Jewish and my father spent the war in Naval Intelligence. We knew little about his secret service but knew he was very glad he got to help defeat this terrible regime. I grew up thinking anyone who was a Nazi and participated in that government deserved any punishment handed down. I assumed all were complicit and committed to Hitler, until I read Anthony Doerr's novel "All The Light We Cannot See." The economic conditions cementing Hitler's march to war and world domination made for few choices. This eight year old and his mother probably had few, if any choices, and when there are no good choices left to make they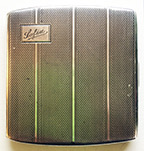 did what they had to to survive. The photo album lead me to think about forgiveness and wonder if one forgives, does it absolve the misdeeds or the ignorance of them? And does forgivenss bring solace or is it just an understanding of helplessness when there are no choices left?
Sorrow
"Sorrow Floats" John Irving, "Hotel New Hampshire"
"Sorrow is food swallowed too quickly, caught in the throat, making it nearly impossible to breathe. " Jesmyn Ward, "Sing, Unburied Sing"