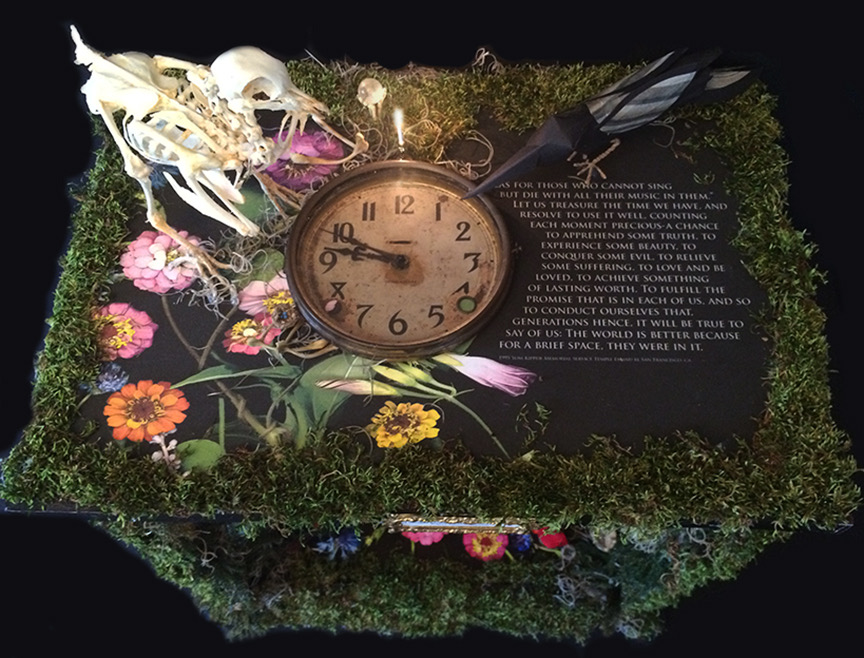 This is the roof of The Birthday Party. The articulated bird was another Ebay find and the mantle clock face is from an old Connecticut watch company Ingraham Mantle Clocks. The structure of the mantle clock was falling apart when I found it buried under stuff in a favorite second hand shop. I immediately recognized the name on the face because of other mantle clock finds and loved it. After freeing the face from the decrepid body I set the time for the time I was born, 9:47am. The quote was spoken at a Yom Kippour service I was invited to when I lived in San Francisco. The quote has stayed with me and I thought it was a wonderful way to frame life. It reads:

"Alas for those that cannot sing, but die with all their music in them. Let us treasure the time we have and resolve to use it well, counting each moment precious—a chance to apprehend some truth, to experience some beauty, to conquer some evil, to relieve some suffering, to love and be loved, to achieve something of lasting worth. We strive to fullfill the promise that is in each of us, and in doing so conduct ourselves so in generations hence, it will be true to say of us, the world is a better place because for a brief space we were in it." 
Yom Kippur Memorial Service, Temple Emanu-El, San Francisco, Ca. 1995
The black bird was made by the artist Dorothy O'Connor.
Botanical scan by Susan S. Barmon