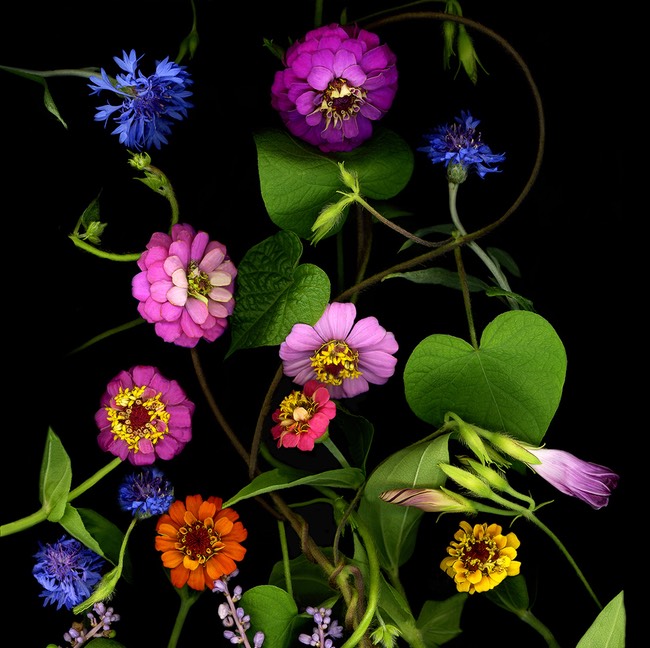 The Botanical series began in 2005 when serious illness of a family member  required me to to give up my portrait business to be at home. During that time a fellow photographer showed me work she was creating moving flowers as she scanned them. I was intrigued. I had a scanner and was interested to see what would happen eliminating my ever-present camera. The result was a flower portrait revealing extraordinary detail along with a very shallow depth of field.   I was hooked! Not only could I create these flower portraits, I could have fun doing it.
When composing these portraits I strive to reveal sharp detail, depth of the material, not everything is on the same plane, and an impression of impending motion so image is not static. The black background intensifies the subjects details and is the constant in the series. 
Many of The Botanical Scans are licensed and published through Artlicensing .com. They have been selected by Jane Jackson, curator of the Elton John Collection and Julian Cox, former curator of Photograthy at the High Museum, Atlanta, Ga., for inclusion in the permanent collection at The Shepherd Center, Atlanta, Ga., They have been chosen for Atlanta Photography Group shows and the series was selected for a solo show at The Atlanta Botanical Garden. Ms. Barmon's botanicals have been featured in Flower Magazine, The CSA Journal  and in the queen rooms at the Dollywood  Gaylord Hotel, Nashville, TN   
The botanicals are custom prints available for purchase. All of these prints are custom. Email me your choices and we can discuss size and purchase price according to size and choice of fine art paper, canvas or metal prints, or limited edition prints. Contact for questions: suzib123@gmail.com.